Open Letters & Public Statements from SAVIMS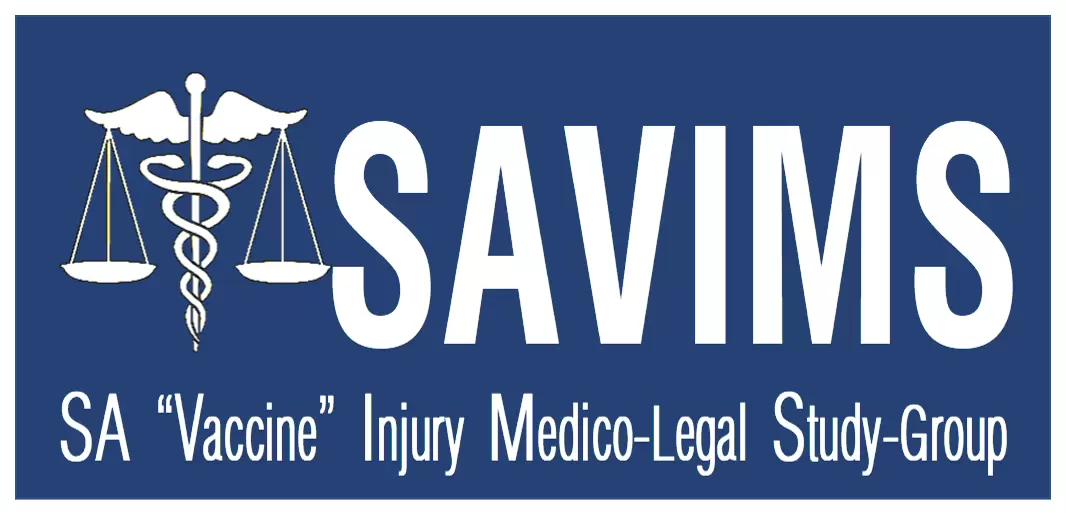 The SA Vaccine Injury Medico-Legal Study-Group (SAVIMS) is formed as a Voluntary Association under Common Law, and functions as a Network Centre, including the capacities of Social Responsibility, Professional, Scientific and Expertise. It is dedicated to the study of 'vaccine' injuries and related factors, specifically in relation to medical and legal issues.
The return made by SAVIMS is to support Healthcare Professions, thereby serving the society that relies upon such expertise by dedicated aggregate of these Professions.
Purpose
The purpose of SAVIMS is to study and communicate – in order to develop knowledge – criteria and guidelines in relation to:
The definition of 'vaccine' injury
The pathogenesis of 'vaccine' injury
The diagnosis of 'vaccine' injury
The treatment of 'vaccine' injury, or post-'vaccination' syndrome
The prognosis of 'vaccine' injury, or post-'vaccination' syndrome
Medico-legal report-writing in respect to victims of 'vaccine' injury
Mediation of 'vaccine' injury disputes
Provision of medico-legal evidence in Court in 'vaccine' injury disputes
Ethics and Professionalism
The members of SAVIMS undertake to conduct their studies and related activities to high standards of professional ethics and constitutional values, specifically in accordance with the South African Constitution and Bill of Rights, the Code of Conduct of the South African Medico-Legal Association, The Ethical Rules and Guidelines of the respective statutory bodies to which individual professional members are registered, and applicable laws.
Their statements will be published and promoted here, by the red list, so that they are available to the public.
Thank you SAVIMS!
31 October 2022
Re: Investigating the safety and consequences of blood transfusion from SARS COVID-19 vaccine-trial donors
Sent to Mr Ravi Reddy of the South African National Blood Service (SANBS) and Dr Gregory Bellairs of the Western Cape Blood Service (WCBS), this letter requests information from both organisations in respect to safety and consequences of blood transfusions given to recipients from COVID-19 vaccine-trial donors.
10 October 2022
Re: Expiry Date of Comirnaty® Vaccine (mRNA COVID-19 Vaccine) from Pfizer-BioNTech – 3‑month extension on shelf life when stored between ‑90°C and ‑60°C
This letter was sent to Dr Semete-Makokotlela, the Chief Executive Officer of SAHPRA, in response to their announcement in September 2022 to extend the shelf life of the Comirnaty "COVID-19 vaccine" by three months.