#JusticeForBongani
Published 28 March 2022 at 17:11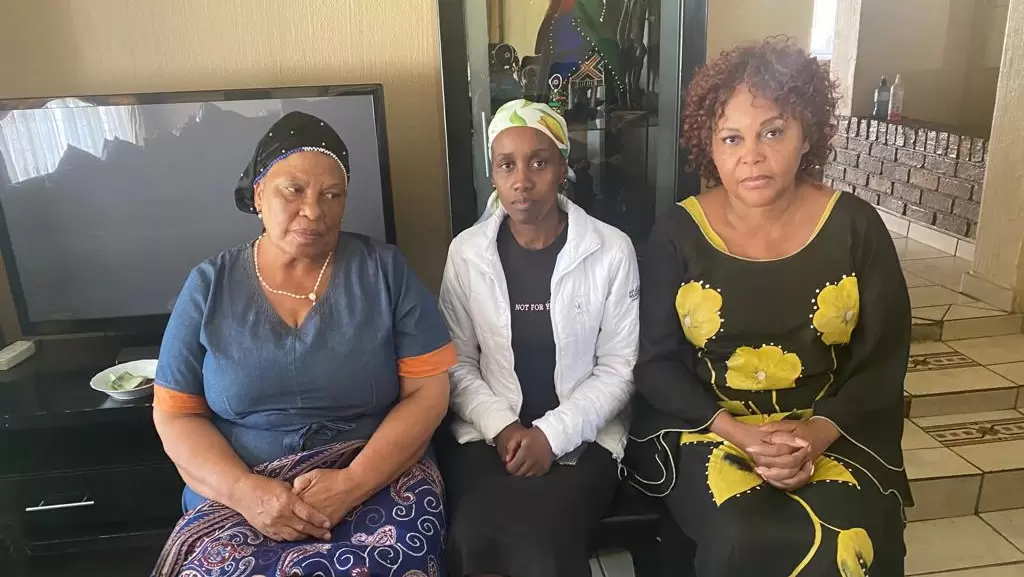 The tragic story of a national vaccine mandate.
Photo: Left to right: Bongani's mother, Ms. Lucia Mbonani, Bongani's wife, Nompumelelo Mkhwanazi, and Legal Spokesperson and Activist Pearl Kupe at Bongani's mothers' home in Johannesburg.
Written by Pearl Kupe, Lawyer, Activist and Legal Spokesperson for the Red List
President Mokgweetsi Masisi's Pledge to The Nation and the World
In May 2021, President Mokgweetsi Masisi gave an interview to CNN anchor Zain Asher. He also later gave an interview to BBC. In both interviews, he pledged to abstain from implementing mandatory vaccinations in Botswana. His reasoning was sound and based on democratic and sound rule of law principles. He referred to the rights of individuals and to their constitutional rights, in particular. It was a shock, therefore, to see Botswana implement an aggressive mandatory vaccination policy on 11 February 2022.
One of the reasons President Masisi advanced for the roll out of a mandatory vaccination policy was that vaccines, which had been sourced from abroad, were expiring in April 2022. Expiration of vaccines, however, can never be a compelling reason for infringing on fundamental and key constitutional rights.
In spite of the Botswana Presidents promise to the nation, the Minister for Health and wellness, Dr. Edwin Dikoloti on 11 February, a member of the World Health Organisation's (WHO) Executive Board, issued a gazetted notice which made vaccinations mandatory. The WHO has been at the forefront of pushing a mandatory vaccination policy in all nations, even in African nations who have, with the lowest vaccination rate, produced the lowest statistics for COVID, and achieved herd immunity in most countries. The gazette notice required every person, regardless of nationality to be vaccinated or to vaccinate on entry. Botswana citizens would, in addition, to being vaccinated be fined an amount of P5,000 on entry for not being vaccinated.
Who was Bongani Mbonani?
Bongani Mbonani was a South African citizen who was in the creative arts and entertainment industry. He worked with many artists, one of whom was the popular and well-known Rapper Siyabonga "Slikour" Metane. On 4 March 2022, he travelled to Botswana to attend a creative arts workshop. On entry to Botswana, he was vaccinated and within a few hours he started to complain about his head. He was taken and admitted to Princess Marina Hospital. Bongani was later admitted into ICU and later fell into a coma, and sadly passed away on the evening of 17 March 2022, two days after the Botswana Cabinet had approved the change to the gazette to remove mandatory vaccinations at their border posts.
Bongani's Family
On Friday, 25 March 2022 I went to visit his mother Mme Lucia Mbonani father home in Gauteng to express my condolences to the family and to update her on progress regarding the repatriation of her son's body. She had just returned from Gaborone, Botswana. A number of family members were there, including Bongani's wife and adorable four-year-old son.
Those who knew and loved Bongani talk about his zest for life and his love of the entertainment world. His mother, fondly known as Mama Lulu, told me of the big dreams that he had to bring changes to his community and the sector he was in. Those dreams included rolling out training schools and institutions. It is a great tragedy that his life and dreams were cut short.
In speaking to his mother, wife, and family members, it was agreed that it would be a travesty if justice for Bongani was not pursued and if his unfortunate passing could not be used as an opportunity to educate and help others in respect to mandatory vaccination issues.
#JusticeForBongani
When I was at Mama Lulu's home, I watched Bongani's young son innocently playing in the house and later in the garden. At that time, he seemed relatively oblivious to the fact that his father was no longer with us. No doubt a time will come, when he will begin to ask his mother, grandmother, and family many questions about his father and want to know what happened to him.
This is one of many reasons why justice for Bongani must be pursued, not only for his young son, his wife, his mother, and family but for every activist, community, nation and nations that are fighting against mandatory vaccinations.
Botswana overturned its decision to forcefully vaccinate people at the border at a Cabinet meeting on 15 March 2022. The Minister of Health released a formal gazettement of this decision which now allows people to enter Botswana with a valid negative 72-hour PCR test on Friday, 18 March 2022. Travellers are also subjected to another test on entry.
For Bongani, it was too little, too late.
Botswana lost a total of P119 million in cancelled tourist-visits, but the Mbonani family lost a son, a father, and a brother. Money can be recovered, but a lost life cannot.
The government of Botswana has a duty to see to it that Bongani's autopsy and funeral arrangements are conducted in a dignified and befitting manner. The government must take responsibility for any and every error and/​or negligence that may have occurred and it must ensure that this travesty does not happen to any other person. It will accomplish this by scrapping its vaccination policy and affording people their constitutional rights of freedom of choice to determine what goes in their bodies.
Infringement of Basic Constitutional and Fundamental International Rights
Bongani was denied the opportunity to exercise fundamental constitutional rights. The Nuremberg Code is an international instrument which discusses the ethics of medical research and applies to all nations. In Article 1, raises and guarantees some fundamental issues, namely:
the right to bodily and physiological integrity
voluntary consent and the right to informed consent and to know the contents of what is being put into our bodies
the right not to be a guinea pig or lab rat by having what constitutes medical experiments and clinical trials

"

No experiment should be conducted where there is an a priori reason to believe that death or disabling injury will occur"
By forcefully vaccinating Bongani at the Botswana border post, the Botswana government denied him all these rights.
They further discriminated against him unlawfully by forcefully requiring him to vaccinate, since it has been medically and scientifically shown that one can still contract and transmit COVID-19 even after being vaccinated – vaccination does not ensure against contracting and transmitting the disease.
Help us keep the memory of Bongani alive and honour him by supporting this new campaign which is started in his honour to create awareness around vaccinations.
#JusticeForBongani